The Mayor Of Casterbridge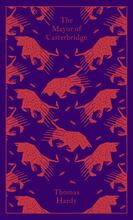 Stock information
: $37

.00

(NZD)

:
: 9780241347775
: Penguin Books, Limited
: Penguin Books, Limited
:
: 0.574
: November 2018
: ---length:- '7.75'width:- '5.062'units:- Inches
:
: 37.0
:
:
:
: books
:
:
: Thomas Hardy; Keith Wilson (Editor); Coralie Bickford-Smith (Illustrator)
: Penguin Clothbound Classics Ser.
: Hardback
: 1
:
: English
: 823.92
:
:
: 448
:
:
:
:
:
9780241347775
Description
At a country fair near Casterbridge in the fictional county of Wessex Michael Henchard, a 21-year-old hay-trusser, argues with his wife Susan. Drunk on rum-laced furmity he auctions her off, along with their baby daughter Elizabeth-Jane, to Richard Newson, a passing sailor, for five guineas. Sober the next day, he is too late to recover his family. When he realises they are gone, he swears never to touch liquor again for as many years as he has lived so far.Eighteen years later, Henchard has become a successful grain merchant and Mayor of Casterbridge, known for his staunch sobriety. Henchard has avoided explaining the circumstances of the loss of his wife, allowing people to assume he is a widower.On a visit to Jersey on business, Henchard falls in love with Lucetta Le Sueur, who nurses him back to health after an illness. Although Henchard never tells Lucetta exactly how he "lost" his wife, he does tell her he has a wife who is probably dead, but who may return. Besotted, Lucetta develops a relationship with him despite the risk. Henchard returns to Casterbridge, leaving Lucetta to face the social consequences of their fling.To rejoin polite society Lucetta would have to marry him, although Henchard is already technically married. Yet just as Henchard is about to send for Lucetta, Susan unexpectedly appears in Casterbridge with her daughter, Elizabeth-Jane. Newson appears to have been lost at sea, and without means to earn an income Susan is looking to Henchard again. Susan believed for a long time that her "marriage" to Newson was perfectly legitimate. Only recently, just before Newson's disappearance, had Susan begun to question whether or not she was still legally married to Henchard.Just as Susan and Elizabeth-Jane arrive in town, a Scotsman, Donald Farfrae, is passing through on his way to America. He has experience as a grain and corn merchant, and is on the cutting edge of agricultural science. He befriends Henchard and helps him out of a bad financial situation by giving him some timely advice. Henchard persuades him to stay and offers him a job as his corn factor, rudely dismissing a man named Jopp to whom he had already offered the job. Hiring Farfrae is a stroke of business genius for Henchard, who, although hardworking, is not well-educated.To preserve appearances, Henchard sets Susan up in a nearby house, pretends to court her, and remarries her. Both Henchard and Susan keep the truth from Elizabeth-Jane. Henchard also keeps Lucetta a secret. He writes to her, informing her that their marriage is off.Henchard's relationship with Farfrae deteriorates as Farfrae becomes more popular than Henchard. Eventually they part company and Farfrae sets himself up as an independent merchant. The rivalry and jealousy for the most part is one-sided, and Farfrae conducts himself with scrupulous honesty and fair dealing. Henchard meanwhile makes increasingly aggressive, risky business decisions that put him in financial danger.Henchard's jealousy leads him to oppose a marriage between Farfrae and Elizabeth-Jane, until after Susan's death, at which point Henchard learns he is not Elizabeth-Jane's father from a letter which Susan, on her deathbed, marked to be opened only after Elizabeth-Jane's marriage. His own daughter had died in infancy; this second Elizabeth-Jane is Newson's daughter. Henchard is no longer concerned about blocking the marriage, but he conceals the secret from Elizabeth-Jane and grows cold and cruel towards her.